General Pierre Edme Gautherin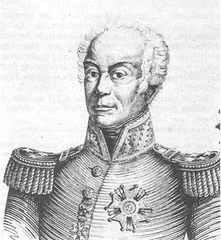 Cavalry officer who served at Friedland, Wagram, and Ligny
---
Born: August 12, 1770

Place of Birth: Troyes, Aube, France

Died: March 19, 1851

Place of Death: Troyes, France

Arc de Triomphe: GAUTHERIN on the east pillar
Pronunciation:
The son of a baker, Pierre Edme Gautherin enlisted in the Neustrie regiment in October of 1788. In 1792 he joined the Legion of the Allobroges in the Army of the Alps and in December he was commissioned as a lieutenant. 1793 was a busy year for Gautherin became an aide-de-camp to General Carteaux, he distinguished himself at the gorges of Ollioules and then at the Siege of Toulon , and he was promoted to capitaine. In January of 1795 he was promoted to chef d'escadrons and in May of 1796 he joined the hussars of the Army of Italy. In 1798 Gautherin joined the Army of Rome and in 1799 he served with the Army of Naples and he fought at the action of Naples. He next joined Rusca's division and he served at the Battle of the Trebbia in June. Rejoining the Army of Italy, Gautherin joined Watrin's division and then he became Soult's chief of staff in the right wing of the Army of Italy. Trapped at Genoa during the Siege of Genoa in 1800, Gautherin led the advance guard in May during the attack of Monte-Cretto where he was wounded and taken prisoner.
After returning to France in June of 1801, Gautherin was temporarily placed on non-activity. In 1803 he was employed in the 2nd military division. For the War of the Third Coalition in 1805, Gautherin was assigned to the corps of reserve of Mainz under Marshal Lefebvre. In 1806 he joined V Corps and on October 16th he was named colonel of the 9th Hussars. The next year Gautherin joined Oudinot's division and he fought at the Battle of Friedland where he was wounded by a ball to the forehead. Stationed with the Army of Germany, Gautherin was assigned to Colbert's brigade in II Corps in March of 1809 just before the War of the Fifth Coalition. He served during that war and he fought at Karako in June and the Battle of Wagram in July. Two months later Gautherin was promoted to général de brigade and then in October he was assigned to the Cavalry Reserve.
Sent to Italy in 1811, Gautherin returned to the Grande Armée in 1812 to take part in the campaign against Russia as part of Grouchy's III Cavalry Corps. During the retreat from Russia he fought at Winkowo in October but then the following day he nearly died and was taken prisoner. Gautherin returned to France in August of 1814. For the Hundred Days of 1815, he joined the cavalry of the Army of the North and he fought at the Battle of Ligny. Afterwards he served in the Army of the Loire and he helped reestablish order in the département of Allier. He was put on non-activity in October but he resumed his army career in 1818.

Bibliography
Updated August 2020
© Nathan D. Jensen