General Armand Lebrun de La Houssaye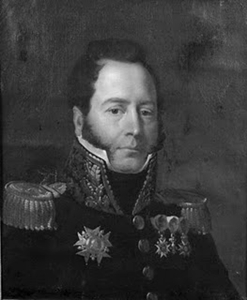 Général de division of dragoons who fought at Friedland and Borodino
---
Born: October 20, 1768

Place of Birth: Paris, Paris, France

Died: June 19, 1846

Place of Death: Paris, France

Arc de Triomphe: LAHOUSSAYE on the north pillar
Pronunciation:
Armand Lebrun de La Houssaye first joined the French army as a sous-lieutenant in the 82nd Infantry Regiment in September of 1791. The next year he transferred to the cavalry and served with the 5th Dragoons before he was promoted to capitaine and became an aide-de-camp to General Beurnonville. Serving with the Army of the North, La Houssaye was promoted to chef d'escadrons in February of 1793 and the following month he joined the 3rd Hussars. Later that year he fought at Carlsberg, Kaiserslautern, and then Froeschwiller where he was wounded by grapeshot to the right foot. March of 1794 saw La Houssaye promoted to chef de brigade of the 3rd Hussars, a position he would remain in for some time.
In early 1796 La Houssaye was removed from his command for appearing drunk at an event. That May he was named temporary commander of Utrecht and by the end of the year he was serving with the Army of the Sambre and Meuse. In 1798 La Houssaye was posted to the Army of England and at the end of the year he served against the revolts in Belgium. Next he was sent to the Army of Observation and with them he fought at Hoechst in October of 1799 where he was wounded by a shot to the heel.
During the years of peace that followed, La Houssaye served in the 1st military division until 1803 when he was named chef de brigade of the 16th Chasseurs à Cheval. In 1804 he was promoted to général de brigade and he became a Commander of the Legion of Honor. The next year La Houssaye served as president of a commission that oversaw light cavalry maneuvers and training.
When war broke out in August of 1805, La Houssaye was appointed commander of the 2nd Brigade of Nansouty's 1st Cuirassier Division in the Cavalry Reserve. He served on the campaign in Austria that year, and then in 1806 he was designated commander of the light cavalry of I Corps. In February of 1807 La Houssaye served at Braunsberg and then three months later he received a promotion to général de division and assumed command of the 4th Dragoon Division. Leading his men into action that June, he fought at Spanden and Friedland.
In 1808 La Houssaye and his division were sent to the Army of Spain to join the Cavalry Reserve under Marshal Bessières. In the meantime he was rewarded as a Baron of the Empire. La Houssaye served at Madrid and Escurial that December, and then in January of 1809 his unit was attached to the II Corps under Marshal Soult. That month La Houssaye's dragoons saw plenty of action, serving at Prieros, Ferreira, and Corunna . 1810 was also a busy year for La Houssaye as he served in Reynier's II Corps, fighting at Rocca, being named Governor of Toledo, winning at Cuenca, and then battling guerillas at Tarancon and Veler. In 1811 he was named governor of the province of Cuenca, and later that year he defeated Zayas at Aunon. Shortly thereafter, La Houssaye was recalled to France.
In 1812 General La Houssaye was designated to take part in the campaign against Russia as commander of the 6th Dragoon Division in General Grouchy's III Cavalry Corps. Taking part in the campaign, La Houssaye fought at Borodino where he was badly wounded. As the army retreated, in December the French evacuated Wilna but were forced to leave many wounded soldiers behind, including La Houssaye. The Russians took La Houssaye prisoner at Wilna and held him until after Napoleon's abdication in 1814.
Once back in France, La Houssaye was recognized as a Knight of Saint Louis by the restored Bourbons but also put on non-activity. When Napoleon returned from Elba in 1815 for the Hundred Days, La Houssaye rallied to him. La Houssaye was initially placed with the 2nd Cavalry Division of I Corps but in June he was made available to the Minister of War to inspect the cavalry depots. After Napoleon's second abdication, La Houssaye was placed on non-activity again.

Bibliography
Updated June 2016
© Nathan D. Jensen