General Etienne-Marie-Antoine Champion de Nansouty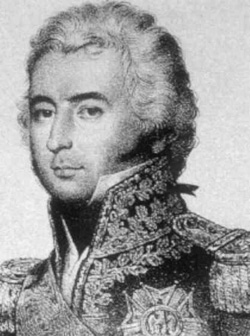 Noble heavy cavalry general who fought at Austerlitz, Eylau, Friedland, Aspern-Essling, Wagram, and Leipzig
---
Born: May 30, 1768

Place of Birth: Bordeaux, Gironde, France

Died: February 12, 1815

Cause of Death: Illness

Place of Death: Paris, France

Arc de Triomphe: NANSOUTY on the east pillar
Pronunciation:
Etienne-Marie-Antoine-Champion Nansouty was a cavalry general known for his sarcasm and adherence to tradition. Born into the minor nobility, his father served as an army major, and Nansouty followed his father's career path of the army. He first went to the military school at Brienne and then to Paris before joining a cavalry regiment as a sous-lieutenant in 1785. By the time of the Revolution, Nansouty had risen to capitaine and stayed with the army despite his noble ancestry. One of his first positions after the Revolution began was as aide-de-camp to General Luckner.
In March of 1792, Nansouty was made a lieutenant colonel in the 2nd Chasseurs à Cheval in the 9th Cavalry Regiment. Assigned to the Army of the Rhine, Nansouty went on to distinguish himself and receive promotion to colonel of the 9th Cavalry Regiment in November of 1793. Continuing with the the Army of the Rhine, in 1796 Nansouty fought at Neresheim in August and then Schliengen in October. In August of 1799 he received promotion to général de brigade, and he served under Ney and Lecourbe in the following months.
In 1800 Nansouty was initially designated to command some cavalry in the Army of the Reserve, but instead he took command of a brigade of dragoons in the Army of the Rhine. That May he fought at Stockach, Messkirch, and Memmingen. In July Nansouty joined Gudin's division and was victorious at Saulgrueb, and then in September he took command of the cavalry reserve of Lecourbe's corps which he commanded until the next year.
During the intermediate years of peace, General Nansouty served in various administrative positions. In March of 1803 he received a promotion to général de division, and then in 1805 he went to the camp of Boulogne where he took command of a heavy cavalry division. Once war broke out, this division became the 1st Division of Cuirassiers and Carabiniers of Marshal Murat's Cavalry Reserve. Campaigning with the army, he fought at Wertigen and Austerlitz.
In 1806, Nansouty and his men took part in the campaign against Prussia and saw action in December, fighting at Kolozomb and Golymin . A few months later they took part in the Battle of Eylau and then fought at Willenberg. When the campaign was resumed that summer, Nansouty's division fought at Guttstadt and Friedland in June. In recognition of his contributions, he received a Grand Eagle of the Legion of Honor and became First Equerry to the Emperor and a Count of the Empire.
General Nansouty accompanied Napoleon to Spain in late 1808, and returned with Napoleon to France in early 1809. During this time he took a short leave, and while gone his men drew up a petition to allow their hair to be cut shorter, instead of the longer queues of the Ancien Régime that Nansouty still preferred. His officers agreed to allow the shorter hair to match the other cavalry regiments, but upon Nansouty's return he was furious and had these officers temporarily arrested. However, the damage was already done, the men had short hair and would not go back.1
With the Austrians declaring war on France in the spring of 1809, Nansouty retook command of the 1st Heavy Cavalry Division as part of Marshal Bessières' Cavalry Reserve. He served at Abensberg, Eckmühl, Ratisbon, Aspern-Essling , and Wagram over the course of the campaign. At Wagram, as General Nansouty was unable to support Macdonald's attack, the Emperor Napoleon asked him why not. As Nansouty gave his reasons, it became clear to him that Napoleon did not understand, so he sarcastically exclaimed, "After all, there is nothing your majesty can teach me about the handling of cavalry!" and turned and left.2 A few months later General Bruyère took over his command and Nansouty became the inspector general of dragoons. In October of 1811 he took command of the 2nd and 4th Divisions of Cuirassiers.
For the campaign against Russia in 1812, Nansouty received command of the I Cavalry Corps. On this campaign, when Marshal Murat voiced concern over the poor health of Nansouty's horses, Nansouty replied that the horses "had no patriotics instincts."3 Regardless of the horses' patriotism, they and the soldiers of Nansouty's command fought at Swir and Ostrowno in July. Next Nansouty fought at Borodino where he was wounded by a ball to the knee. The next month Napoleon ordered the evacuation of the wounded before he decided to abandon Moscow and retreat, and the wounded Nansouty was placed in charge of the convoy. Having a head start over the army, Nansouty admirably led the convoy back to safety before the horrors of the retreat.4
In early 1813 Nansouty was named Colonel General of Dragoons, but he did not return to battle until July of that year when he took charge of the cavalry of the Imperial Guard. He served in Germany and fought at Dresden, Leipzig , and Hanau, where he was wounded. In February of 1814 Nansouty fought at La Rothière, Montmirail , and Troyes, and then in March he seized Berry-au-Bac. Shortly before the Battle of Craonne commenced, he was informed that he was relieved of command. Nansouty responded that he could still do his duty, and fought well at Craonne where he was wounded. After the battle, he immediately retired.
After Napoleon's abdication, Nansouty was treated well by the returning Bourbons who made him an aide-de-camp to the Count of Artois and rewarded him as a Knight of Saint Louis. Nansouty died before Napoleon's return from exile and the Hundred Days.
Notes
Bibliography
External Links:
Updated January 2018
© Nathan D. Jensen