General François-Joseph d'Estienne de Chaussegros Léry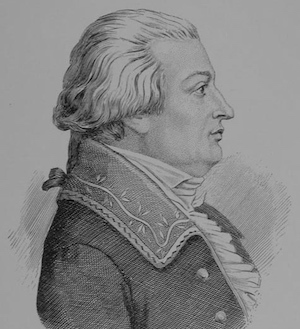 French Canadian born general of engineers who served in Spain
---
Born: September 11, 1754

Place of Birth: Quebec City, Canada

Died: September 5, 1824

Place of Death: Chartrettes, France

Arc de Triomphe: LERY on the west pillar
Pronunciation:
A French Canadian, François-Joseph d'Estienne de Chassegrous Léry had traveled to France and enrolled in the engineering school of Mézières in 1773. In 1780 he was commissioned as a lieutenant of engineers and sent on the expedition to assist the Americans in the American Revolutionary War. Léry saw combat in April of 1782 during two naval battles before the war's conclusion. In 1788 he was promoted to capitaine and then in 1792 and 1793 he served at Guadeloupe and Tobago.
Léry next returned to France and in 1795 he was promoted to chef de bataillon and named the deputy director of fortifications in the Army of the Sambre and Meuse. That September he served at the crossing of the Rhine at Urdingen, and then three months later he was promoted to chef de brigade. Lery's next assignment came at the blockade of Cassel where he served under General Kléber and later in July of 1796 he received a promotion to général de brigade. In 1800 Léry was appointed the chief of engineers of the left wing of the Army of the Rhine and then in June he joined the second Army of Reserve under General Brune.
In 1803 General Léry was assigned to the camp of Utrecht under General Marmont. When war broke out in August of 1805, he assumed command of the engineers of Marmont's II Corps. After taking part in the campaign of 1805, in 1806 Léry was sent to Palma-Nova and then named commander of engineers in the Venetian States. He fortified Palma-Nova and then was recalled to the Grande Armée in 1807 and went on to serve at the Battle of Friedland.
General Léry was next sent to Spain in 1808 where he was named commander-in-chief of the engineers of the Army of Spain. In 1810 his command was changed to commander of engineers of the Army of the South, and in 1811 he was named a Baron of the Empire and served at the siege of Badajoz. Léry continued to serve in Spain until 1813 when he went on leave and then was recalled to France. As the French army continued to fall back in Spain, in July of 1813 he joined the Army of the Pyrenees under Marshal Soult as chief engineer. For the defense of France of 1814, Léry was sent to the army in Champagne where he prepared Soissons for defense and then served at Arcis-sur-Aube.
After Napoleon's abdication in 1814, the restored Bourbons named Léry a Commander of Saint Louis and gave him the Grand Cordon of the Legion of Honor. When Napoleon escaped from Elba in 1815 for the Hundred Days, Léry supervised the fortifications of Lyon. After Napoleon's second abdication, he retired from the military.

Bibliography
Updated February 2015
© Nathan D. Jensen