General Jean Victor Tharreau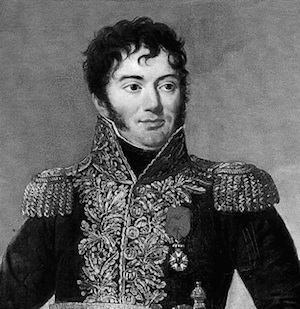 Général de division who was mortally wounded at Borodino
---
Born: January 15, 1767

Place of Birth: May-sur-Evre, Maine-et-Loire, France

Died: September 26, 1812

Cause of Death: Mortally wounded

Place of Death: Mojaisk, Russia

Arc de Triomphe: THARREAU on the east pillar
Pronunciation:
Like many others during the French Revolution, Jean Victor Tharreau first joined the army by volunteering when he joined the 2nd Battalion of National Volunteers of Maine-et-Loire in August of 1792. The next year he served as an aide-de-camp to General Tourville and then General Ferrand and that November he was named a chef de brigade by the representatives of the people serving with the Army of the Ardennes. A mere four months later in March of 1794 Tharreau was promoted to général de brigade and appointed chief of staff of the Army of the Ardennes. That May he served at the Siege of Charleroi but then in June he was suspended from duty. A year later Tharreau returned to the army in June of 1795 when he joined the Army of the Rhine and Moselle. In October he was employed in the 3rd Division and then in the summer of 1796 he took command of the advance guard of General Férino. In August of 1796 Tharreau seized Lindau and Bregentz, but then in September he was repulsed at Durach. The next month he rejoined the 3rd Division only to be repulsed at Rheinfelden, and then in November he joined Sainte-Suzanne's division in defending Kehl.
Over the next few years, General Tharreau served in Germany and then in March of 1799 he was appointed to Férino's division in the Army of the Danube. That month he fought at Pfullendorf and Stockach and a month later he received a promotion to général de division. Nex Tharreau took command of a division in the Army of Switzerland and that May he fought at Thur and then was driven out of Glaris by the Austrians. A few months later, Tharreau was accused by Swiss authorities of ruining a store of grain and he was summoned to Besançon to account for his conduct. Shortly thereafter he was appointed commander at Strasbourg where he served until December of 1799 when he took command of a division of the Army of the Rhine. In May of 1800 he served at Biberach. General Tharreau's next major command came in the Army of the South under General Murat at the end of the year. In March of 1801 he was ordered to conquer the isle of Elba and he disembarked there with his troops and laid siege to Porto-Ferrajo. That July he was replaced by General Watrin in command of the siege and then in December Tharreau was stationed in the Cisalpine Republic.
As Napoleon consolidated his power, Tharreau voted against the Consulate for Life and the establishment of the French Empire. For these reasons, he was left without military employment for a number of years. Nevertheless, in December of 1808 he was appointed a Baron of the Empire and then in March of 1809 he resumed an active command, taking command of a division in Oudinot's corps in the Army of Germany. Serving on the Danube campaign that year, Tharreau took part in the attack on Vienna, he fought at Aspern-Essling where he was wounded, and then he fought at the Battle of Wagram . A month later he was named an Officer of the Legion of Honor.
In 1810 Tharreau returned to France with his division, but when his division was broken apart he was left without a command again. Two years later, as preparations for war against Russia were being completed, Tharreau was appointed commander of the 23rd Division of VIII Corps, a Westphalian unit. Tharreau served on the campaign first under Napoleon's brother Jérôme Bonaparte and then under General Junot. That September he fought at the Battle of Borodino where he was badly wounded by two shots, and a few weeks later he died of his wounds at Mojaisk.

Bibliography
Updated March 2022
© Nathan D. Jensen