General Honoré Vial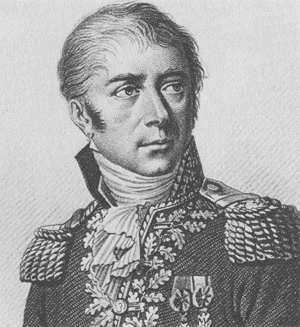 Général de division and ambassador to Switzerland who died during the Battle of Leipzig
---
Born: February 2, 1766

Place of Birth: Antibes, Alpes-Maritimes, France

Died: October 18, 1813

Cause of Death: Apoplexy

Place of Death: Leipzig, Germany

Arc de Triomphe: VIAL on the south pillar
Pronunciation:
The older brother of cavalry officer Jacques-Laurent-Louis-Auguste Vial, Honoré Vial's military career began when he joined the navy in 1788. Four years later he was a lieutenant in the infantry in Corsica, helping to defend Bastia and later serving as an aide-de-camp to General Rochon. In June of 1792 Vial became aide-de-camp to General Delmas in the Army of the North, and in this position he took part in the sieges of Crèvecouer and Bois-le-Duc. For a brief time, he served in the cavalry of the Army of the North as a captain.
Promoted to chef de brigade in December of 1794, Vial was transferred to the Army of the Alps in June of 1795, and later he joined the general staff of the Army of Italy. Serving on the Italian campaign of 1796, General Bonaparte promoted Vial to général de brigade in August of 1796 and then sent him on a mission to Turin. At the Battle of Arcola , Vial fought in Masséna's division and a few days afterwards was transferred to Joubert's division. After commanding the light infantry of Joubert's division at the Battle of Rivoli , he went on to occupy Roveredo and Trente and win a battle at Segonzano. In March of 1797 Vial was placed under Baraguey d'Hillier's command and he went on to serve at Tramin and later seize the bridge at Neumarkt. Vial continued to command brigades of light infantry for the rest of his tenure in Italy, but in January of 1798 he was transferred to the Army of England.
The next month Vial was named commander of Rome and a month after that he was designated for the newly renamed Army of the Orient. Placed under General Menou, he fought at Alexandria, and then took command of Menou's division for the Battle of the Pyramids . Shortly after the battle, he was ordered to occupy Damiette and he then commanded the provinces of Damiette and Mansourah for the remainder of the year. In January of 1799 Vial joined Bon's division and served in the Siege of Acre. That April he occupied Sour and fought at Mount Tabor before he returned to Acre to take part in the siege once again.
Finally returning to France in December of 1800, Vial was put on non-activity in September of 1801 but then sent as an envoy to Naples in May of the following year. Promoted to général de division in August of 1803, a few months later he was replacing General Ney as France's ambassador to Switzerland, a position he would hold for the next five years. Despite serving in a diplomatic post, rewards would still be offered to Vial, as he became a Commander of the Legion of Honor in June of 1804 and a Baron of the Empire in August of 1810.
In 1809 General Vial was named Governor of Venice by Emperor Napoleon's orders. In this position, he helped serve against the insurgents of the Tyrol. Vial fulfilled administrative posts for the next few years until given command of the 6th Infantry Division in April of 1813. Serving in Germany, Vial led his division into battle as part of Marshal Victor's II Corps, fighting at the Battle of Dresden.
Two months later Vial was commanding his division at the Battle of Leipzig . Vial was speaking with Marshal Victor when a ball fired by the Russian artillery flew past Victor and then ricocheted, flying directly in front of Vial's face. Vial let out a cry and clutched his chest , falling dead on the spot. Dr. Larrey later examined Vial's body and seeing no wounds and hearing of the manner of his death, suggested that the ball's proximity to Vial's mouth had asphyxiated him.1 More likely Vial died of apoplexy or heart failure, possibly resulting from the stress of the near miss.
Please see the Appendix about the name VIAL on the Arc de Triomphe.
Notes
Bibliography
Updated March 2015
© Nathan D. Jensen