General Pierre Watier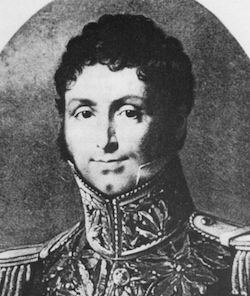 Cavalry general who served at the battles of Friedland, Borodino, and Waterloo
---
Born: September 4, 1770

Place of Birth: Laon, Aisne, France

Died: February 3, 1846

Place of Death: Paris, France

Arc de Triomphe: WATHIER on the east pillar
Pronunciation:
Joining the army during the Revolution, in 1792 Pierre Watier initially served as a sous-lieutenant in the free squadron formed at Arras that joined the 12th Chasseurs à Cheval. He served with the Army of the North and was then promoted to lieutenant in the 16th Chasseurs à Cheval in May of 1793. Only three months later Watier was promoted to capitaine and then that November he was promoted to chef d'escadrons. In 1795 he joined the Army of the Interior and then in 1797 he was sent to Holland where he would serve the next few years. Watier was promoted to chef de brigade of the 4th Dragoons in October of 1799 and then he was placed with Barbou's division, eventually distinguishing himself at the combat of Nuremberg in December of 1800.
When Napoleon moved the Grande Armée east to confront the Third Coalition in 1805, Watier and his regiment were assigned to the 2nd Dragoon Division under General Walther. He served on the campaign that fall and he seized the bridge of Lech near Wertingen in October. The next month Watier fought at Dürenstein where he was taken prisoner while attempting to escape across the river in a boat with General Graindorge. After the conclusion of the campaign in December, Watier was exchanged and then promoted to général de brigade. In 1806 Watier briefly commanded dragoon depots before he took command of the 2nd Brigade of Light Cavalry of General Tilly's division. After Prussia declared war that October, Watier served at Saalburg and Schleiz in October and then Crivitz in November. That December he took command of the newly created 3rd Brigade of Light Cavalry and he went on to serve at Lopacszyn before returning to command the 2nd Brigade under General Lasalle. In 1807 Watier served on the campaigns and he fought at the Battle of Friedland in June. Afterwards he was named a Knight of the Order of the Lion of Bavaria.
In 1808 Watier was sent to Spain to command a brigade of light cavalry in III Corps. That October he won at Lérin and was named a Count of the Empire. In November he served at Tudela and Bubierca and then in December he took part in the Siege of Saragossa. Watier continued to fight, for in January of 1809 he seized Alcaniz and won at Belchite. He was next called to the Army of Germany in June and then later in 1809 he became the Count of Saint-Alphonse. Nevertheless Watier returned to Spain and in October of 1810 he took command of the cavalry of Caffarelli's division. In 1811 he served in the Army of the North and the Army of Portugal, received a promotion to général de division, and served at the combat of Aldea de Ponte.
Watier was called to Mainz in January of 1812 to assume command of the 2nd Light Cavalry Division. Taking part in the campaign against Russia that year, his men served as part of Montbrun's II Cavalry Corps. That May Watier switched commands with General Sebastiani, taking command of Sebastiani's 2nd Cuirassier Division while Sebastiani took over his light cavalry division. At the Battle of Borodino Watier charged under General Caulaincourt against the Grand Redoubt. After surviving the retreat, in February of 1813 took command of the 2nd Cuirassier Division in Sebastiani's II Cavalry Corps. He served throughout the campaign in Germany that year and then in September he was ordered to command the cavalry of Marshal Davout's XIII Corps at Hamburg.
Returning to France in May of 1814, Watier was put on non-activity but also named a Knight of Saint Louis. After Napoleon returned from exile to resume power in 1815 for the Hundred Days, Napoleon placed Watier in command of a cavalry division. That June Watier assumed command of the 13th Cavalry Division of Milhaud's corps. He served at the Battle of Waterloo and afterwards he was put on non-activity.

Bibliography
Updated October 2016
© Nathan D. Jensen