General Louis-François Binot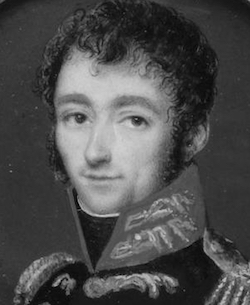 Général de brigade who defended Pondicherry and was killed at Eylau
---
Born: April 7, 1771

Place of Birth: Paris, Paris, France

Died: February 8, 1807

Cause of Death: Killed in action

Place of Death: Eylau, Prussia

Arc de Triomphe: BINOT on the north pillar
Pronunciation:
Like many others during the Revolution, Louis-François Binot volunteered in 1792, joining the Battalion of Volunteers of the Section of Arsenal. Made a sergeant, he was initially sent to the Army of the North and in 1793 he served at Arlon and the relief of Landau. In 1794 Binot served with the Army of the Sambre and Meuse and he fought at the Battle of Fleurus in June. The next month he was commissioned as a sous-lieutenant and then in August he also became an aide-de-camp to General Friant. In 1795 Binot received another promotion, this time to lieutenant.
When General Friant went to the Army of Italy in early 1797, Binot followed him and served at the crossings of the Piave and Tagliamento rivers. He fought at Gradisca and was then promoted to capitaine by General Bonaparte. In 1798 General Friant went to Egypt with the Army of the Orient and Binot once again followed Friant. While there, Binot continued to serve as an aide, and on Christmas Day of 1799 he contributed to the surprise of Osman Bey's camp in upper Egypt. In early 1800 Binot was promoted to chef d'escadrons, and then in August of 1801 General Menou promoted him to chef de brigade. After the surrender of the French in Egypt, Binot finally returned to France at the end of 1801.
Binot's next notable assignment came during the summer of 1802, when he traveled with General Decaen to the Eastern Indies. In 1803 he was transferred to the Department of the Navy, and in 1804 he and 200 men defended Pondicherry from the British but were ultimately forced to surrender. Brought back to France, he returned to the Department of War, and in 1805 was sent to the camp of Saint-Omer.
When war was declared in August of 1805, Colonel Binot became chief of staff to General Saint-Hilaire's division in Marshal Soult's IV Corps. Binot took part in the campaign and fought at the Battle of Austerlitz that December. He was rewarded later that month when he was made a Commander of the Legion of Honor on Christmas Day. In September of 1806 Binot became the deputy chief of staff to Marshal Soult's IV Corps. After Prussia declared war in October, Binot took part in the campaign against Prussia. In November he received a promotion to général de brigade, and then at the end of the year he was transferred to Marshal Augereau's VII Corps. As the French and Russian armies clashed during the winter, General Binot was serving at the Battle of Eylau in February of 1807 when he was killed.

Bibliography
Related Pages:
Updated June 2016
© Nathan D. Jensen