General Louis-Michel Letort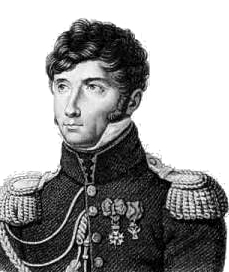 Aide-de-camp to Napoleon and commander of the Dragoons of the Imperial Guard
---
Born: August 28, 1773

Place of Birth: Saint-Germain-en-Laye, Yvelines, France

Died: June 17, 1815

Cause of Death: Mortally wounded

Place of Death: Charleroi, Belgium

Arc de Triomphe: LETORT on the north pillar
Pronunciation:
A famed cavalry leader of the Imperial Guard, Louis-Michel Letort first volunteered during the Revolution as an infantry soldier in the 1st Battalion of Eure-et-Loir in November of 1791. He was quickly elected a lieutenant and his unit was assigned to the Army of the North. In 1792 Letort was fighting when he was taken prisoner in late August. Once freed later that year, he went on to serve under General Dillon and later General Dumouriez at the Battle of Jemappes . 1793 saw Letort fighting and being wounded at Neerwinden , and then in June he was taken prisoner again. While a prisoner he was promoted to capitaine and then eventually released in September of that year. Next Letort became an aide-de-camp to General Huet and served with the Army of the Moselle, fighting at Landau where he was wounded by a saber blow to the right arm. In 1795 he was sent to the Army of the Coasts of Cherbourg in western France.
Unhappy with his work, Letort requested a transfer to the cavalry of the Army of Italy, which was granted on the condition of losing his rank of captain. He agreed, joined the 9th Dragoons, and was sent to the Army of Italy in late 1796. In early 1799 Letort was promoted to lieutenant in the cavalry and he broke his left leg in battle that March. The next month he was promoted to capitaine once again and he then took command of a group of dragoons defending Lecco. After the battle of Cassano, Letort and his men rejoined the Army of Italy. Returning to Paris, he assisted during the coup d'état of 18 Brumaire and afterwards he returned to Italy to serve in Delmas' division.
In 1801 Letort received a promotion to chef d'escadrons, and then in 1803 he became a major in the 14th Dragoons. In October of 1806 he was appointed major in the Dragoons of the Imperial Guard and he led them into action at Jena where he was wounded by a saber blow. His next notable action came in 1808 when he followed Napoleon to Spain and distinguished himself at Burgos. In 1809 he took part in the Danube campaign under Guyot, and in 1810 he became a Baron of the Empire.
During the Russian campaign of 1812, Letort continued to serve with the Dragoons of the Imperial Guard and distinguished himself at Gorodnia and Wiazma during the retreat. When Napoleon was attacked by Cossacks at Gorodnia, Letort was sick but ordered himself tied into the saddle so he could ride with his men to Napoleon's rescue.1
After surviving the retreat, Letort was promoted to général de brigade in January of 1813. Letort took part in the campaign in Germany that year and fought at Arbesau in September. For a brief time he commanded a brigade of I Cavalry Corps, but he returned to the Dragoons of the Imperial Guard to lead them into battle at Leipzig and then Hanau where he was wounded. Letort continued to serve during the defense of France of 1814. At Château-Thierry he charged and rolled over three squares of the enemy. The next day Napoleon promoted him to général de division, made him a Count of the Empire, and began to call him "Letort the Brave".2 That March Letort fought at Méry-sur-Seine, Arcis-sur-Aube, and Saint-Dizier before Napoleon's abdication brought an end to the war.
The returning Bourbons made Letort a Knight of Saint Louis and Commander of the Legion of Honor, but when Napoleon returned from Elba Letort rejoined him as an aide-de-camp. General Ornano held the command of the Dragoons of the Guard, but he entered into a duel with General Bonet and was wounded and no longer able to lead the dragoons. Therefore, Letort returned to command the Dragoons of the Imperial Guard. On June 15th, as the Prussians were retreating near Gilly, Napoleon stated that Letort was the only man capable of sweeping up such rabble, and ordered him to attack the Prussian rear guard. Letort led the charge and was hit by a ball to the stomach. He was transported to Charleroi where he died of his wounds two days later.3
Notes
Philip Haythornthwaite, Napoleon's Commanders (2) c1809-1815, (Oxford: Osprey Publishing, 2002), 26-27.
Ibid., 27.
Bibliography
External Links:
Updated October 2014
© Nathan D. Jensen