General Philippe-Antoine d'Ornano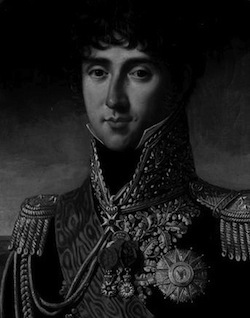 Cousin to Napoleon and cavalry general who married Napoleon's former lover, Marie Walewska
---
Born: January 17, 1784

Place of Birth: Ajaccio, Corsica, France

Died: October 13, 1863

Place of Death: Paris, France

Arc de Triomphe: ORNANO on the east pillar
Pronunciation:
A cousin of Napoleon Bonaparte, Philippe-Antoine Ornano first became an officer at the young age of 15 as a sous-lieutenant of the 9th Dragoons in 1799. Over the next few years he served in Italy before traveling on the expedition to Saint-Domingue as an aide-de-camp to Napoleon's brother-in-law General Leclerc. After Leclerc's death, in 1803 Ornano was promoted to lieutenant and attached to the general staff. A few months later he was promoted to capitaine and soon thereafter he returned to France.
Once back in France, Ornano served in the Army of the Coasts and became an aide-de-camp to Berthier. In March of 1805, as the Grande Armée prepared for war, he was appointed a chef de bataillon of the 3rd Battalion of Corsican Tirailleurs, serving in Legrand's division. Campaigning with the army, Ornano served with distinction at Austerlitz, Jena, and Lübeck. In early 1807 he received a promotion to colonel and he took command of the dragoons in Beker's division.
Rewarded in 1808 by being made a Count of the Empire, Colonel Ornano would spend the next few years in Spain and Portugal. Serving in the 5th Division of Dragoons in 1809, he served at the crossing of the Navia and at Alba de Tormès. The next year he fought at at Ciudad-Rodrigo and then served under Trelliard, and in 1811 he fought at Fuentes de Onoro where he was promoted to général de brigade on the battlefield.
In 1812 Ornano returned to France to take command of the 16th Brigade of Light Cavalry for the Russian campaign. In Russia he served at Mohilew, and then at the Battle of Borodino he charged the enemy at the head of the cavalry of IV Corps. In recognition of his performance, he was promoted to général de division the following day, and then a week later he received command of a division of cavalry of Prince Eugene's IV Corps. During the retreat he fought at Maloyaroslavetz and then at Krasnoe, where he was wounded and left for dead on the battlefield.
After somehow making it out of Russia, Ornano became a major colonel of dragoons in the Imperial Guard in early 1813, serving in Saxony. After the death of Marshal Bessières, General Ornano took command of all the cavalry of the guard for a time. He would go on to fight at Dresden, Kulm, Leipzig , and Hanau before returning to France. Back in France, he took command of all the Imperial Guard troops defending Paris.
After Napoleon's abdication, Ornano escorted his cousin with 1500 soldiers of the Imperial Guard to Saint-Tropez, where Napoleon departed for Elba. On Napoleon's triumphant return in 1815, Ornano was placed in charge of the Dragoons of the Guard, but he soon got in a fight with General Bonet. Ornano and Bonet fought two duels, the first of which both generals missed each other with their pistol shots. During the second duel Ornano was hit and badly wounded and therefore unable to take an active part in the campaign in Belgium. The regiment listed him as "absent without permission" and General Letort took his place in charge of the Dragoons of the Guard.1
After Napoleon's second abdication, Ornano was arrested in July by agents of the Bourbons and then exiled. Choosing to take refuge in Liège, there Ornano met Marie Walewska, the Emperor's former lover, and he married her in 1816, becoming a stepfather to Napoleon's illegitimate son by Marie Walewska. Unfortunately, his new wife died the next year. In 1818, he was allowed to return to France where he again led a distinguished career. In 1861, he was appointed a Marshal of France by Napoleon III.
Notes
Bibliography
Updated May 2016
© Nathan D. Jensen