General Claude-Antoine-Hippolyte de Préval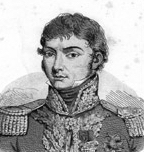 Versatile cavalry and staff officer who became known for his military writings
---
Born: November 6, 1776

Place of Birth: Salins, Jura, France

Died: February 19, 1853

Place of Death: Paris, France

Arc de Triomphe: PRÉVAL on the west pillar
The son of an infantry captain, Claude-Antoine-Hippolyte de Préval followed in his father's footsteps by joining the military. At the dawn of the Revolution in September of 1789, Préval was named a sous-lieutenant in the Enghien regiment, an act which he only achieved by substituting his older brother's birthdate for his own. In 1791 he joined the 21st Infantry and in 1792 he received a promotion to lieutenant. Préval was promoted to capitaine in the artillery company of the 42nd demi-brigade in June of 1794 and he went on to distinguish himself at Weingarten and the siege of Fort Rhin near Mannheim. In the meantime his father had returned to the service and was now a général de brigade in the Army of the Rhine. In 1795 Préval was inactive for most of the year, finally returning to the Army of the Rhine and Moselle in December. During the year 1796 he served under General Grandjean and then on General Gouvion Saint Cyr's staff, and that winter he took part in the defense of Kehl.
Préval's next notable career event came in 1799 when he was promoted to chef de bataillon. Sent to the Army of Italy, he joined Delmas' division and served at Pastrengo and Magnano. Next Préval was promoted to chef de brigade and then in August he was appointed deputy chief of staff of the Army of Italy. Only a few days later he fought at the Battle of Novi where he distinguished himself. In March of 1801 Préval was appointed chief of staff to General Suchet in the Army of Italy, and that June when a number of French regiments mutinied in Turin, his regiment did not.
In 1802 Préval was assigned to the garrison at Paris and he began to make a name for himself as a military writer. Due to his writing skills, he was somewhat involved in the trial of General Moreau and he was later asked to report on the trial of the Duke of Enghien, but he refused. When in 1805 war was declared, Préval was given a command in Saint-Germain's brigade of Nansouty's division in the Cavalry Reserve. He served on the campaign that fall and at the Battle of Austerlitz in December. After Prussia declared war in 1806, Préval took part in the campaign against Prussia, distinguishing himself at Jena. Shortly thereafter, he negotiated the surrender of Erfurt. As the Russians continued to fight, Préval served at Pultusk in December and at then at the end of the year he was promoted to général de brigade in Klein's dragoon division.
After his promotion, General Préval was sent to Pontivy in January of 1807 to command a brigade of cavalry. That August he was assigned the task of commanding the département of Manche in the 14th military division. Rewards followed for Préval, for in 1807 he became a Knight of the Iron Crown and in 1808 he became a Baron of the Empire and Grand Commander of the Order of Saint Joachim of Wurzburg. Préval was employed in the 5th military division in 1809 and then in 1811 he was appointed inspector general of cavalry. Two years later, as France and her allies began to be pressured, Préval was appointed chief of staff to Marshal Kellermann. He was sent to Hanau to command the cavalry depot there, and after the French loss of the Battle of Leipzig , Préval defended Hanau from the Bavarians before falling back to Mainz. For the defense of France of 1814, Préval organized the levée en masse of the département of Jura to draft up new soldiers and then he took command of the cavalry depots at Versailles.
After Napoleon's abdication in 1814, Préval was promoted to lieutenant general and made a Knight of Saint Louis by the restored Bourbons. They employed him as chief of staff and inspector general of the gendarmerie, but nevertheless when Napoleon resumed power in 1815 Préval stayed in France and agreed to serve Napoleon during the Hundred Days. Préval was appointed director of cavalry for the Ministry of War and after Napoleon's second abdication, he continued to be in favor and have a successful career.

Bibliography
Updated November 2019
© Nathan D. Jensen