General François-Isidore Wathiez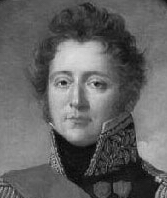 Aide-de-camp to Lasalle who commanded a brigade of lancers at Waterloo
---
Born: September 1, 1777

Place of Birth: Versailles, Yvelines, France

Died: February 24, 1856

Place of Death: Versailles, France

Arc de Triomphe: WATHIEZ on the east pillar
Pronunciation:
François-Isidore Wathiez's military career began in late 1793 when at age 16 he joined the 25th Chasseurs à Cheval as a sous-lieutenant. He initially served against the rebels in the south and then in 1794 went to the Army of Italy. Once there, he fought at Cairo in September of 1794 where he was wounded by a shot below the left knee. Wathiez left the army in 1796, only to return in 1799 at the depot of Versailles. In the year 1800 he was promoted to capitaine and served in the staff of the Army of the Reserve. During the years of peace that followed, Wathiez served in the staff of the 1st military division.
When war broke out in 1805, Captain Wathiez was given a position in the staff of the Cavalry Reserve. He served throughout that campaign and participated at Ulm and Austerlitz. Wathiez continued to serve on the staff in 1806, and in January of 1807 he was promoted to chef d'escadrons and became an aide-de-camp to Lasalle. That June he fought at Heilsberg where he was wounded by a lance blow to the neck.
In 1808 Wathiez was sent to Spain where he served at Torquemada and Cabezon before being wounded by a bayonet at Medina del Rio Seco. That September he became chief of staff to Lasalle's division and in November he was wounded by a shot between the eyes at Burgos. Next he and Lasalle went to Germany to serve against the Austrians, and Wathiez fought at Wagram where Lasalle was killed. In recognition of his services, in 1810 he was created a Knight of the Empire.
Preparing for the Russian campaign, Wathiez was named chief of staff of Montbrun's II Cavalry Corps. He served throughout Russia in 1812 and then in Germany in 1813. In June of 1813 Wathiez was promoted to général de brigade and then in August he was given command of a brigade in Exelmans' light cavalry division. Wathiez went on to fight at Leipzig and then Hanau, where he was wounded by a lance blow. Afterwards, he was created a Baron of the Empire.
Wathiez served during the defense of France of 1814, mostly in Champagne under Roussel d'Hurbal. In March he was suspended for disobedience, and then when the Bourbons returned in April he was put on non-activity. The Bourbons made him a Knight of Saint Louis but he did not hesitate to rejoin Napoleon in 1815. For the Hundred Days, Wathiez took command of the 2nd Brigade of Lancers of Piré's Cavalry Division. He fought at Waterloo where he was wounded, and afterwards he was put on non-activity.

Bibliography
Updated January 2014
© Nathan D. Jensen