General Michel-Sylvestre Brayer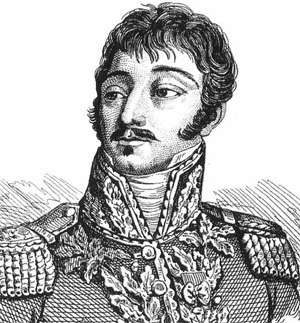 Grenadier commander who served throughout many campaigns of the Empire
---
Born: December 31, 1769

Place of Birth: Douai, Nord, France

Died: November 28, 1840

Place of Death: Paris, France

Arc de Triomphe: BRAYER on the west pillar
Pronunciation:
Michel-Sylvestre Brayer was a career soldier, having joined the army in 1782 at a young age. As the Revolution got underway, he served in the Army of the Center before joining the 3rd Battalion of Volunteers of Puy-de-Dôme at the end of 1792. The next year Brayer served with the Army of the Moselle and received a promotion to capitaine of grenadiers. In 1795 he joined the Army of the Rhine and then in October of 1796 he was distinguished in the fighting at Emmendingen.
With the Army of the Danube in 1799, Brayer fought at Reichenau that March where he was wounded by a shot to the right leg. The following year he was with the Army of the Rhine when he won near Coire and then drove the Austrians out of Bingen that May. A promotion to chef de bataillon followed in July, and then that December Brayer fought at Hohenlinden where he took four enemy cannons.
During the years of peace that followed, Brayer served in Switzerland and Hanover and received a saber of honor for his service. In 1805 he joined a brigade of Oudinot's elite grenadier division, and then during the campaign that fall he distinguished himself at Hollabrunn and Austerlitz. Less than a month after that victory, Brayer was named colonel of the 2nd Light. The next year his regiment was placed with Michaud's division, and in 1807 they joined the X Corps under Marshal Lefebvre. Serving at the Siege of Danzig , Colonel Brayer fought at the action of Frische Nehrung that March. After Danzig was successfully taken, his regiment joined Verdier's division and saw action at Friedland where he was badly wounded.
Brayer's next post came in 1808 when he was sent to the 1st Division of II Corps in Spain. That November he served at Burgos and won at San-Vicente de la Barquera. The following March Brayer was promoted to général de brigade and he served at Oporto. In August of 1809 he took command of the 2nd Brigade of Gazan's division and then in November he led them into action at Ocana . Brayer continued to fight and in January of 1810 he served at the action at Despena Perros. Two months later he was made a Baron of the Empire. That August Brayer served as part of Girard's division at Villagarcia and in February of 1811 he served at La Gebora. In May of 1811 General Brayer was fighting at Albuera when his left leg was shattered by a ball. He survived the wound but unable to command and he was eventually authorized to return to France to recover.
General Brayer finally returned to the field in April of 1813 when he met up with a brigade at Mainz. As part of Durutte's division, he served at Bunzlau in May and then in June he commanded a brigade in III Corps. When General Souham assumed command of III Corps, Brayer took Souham's former command, the 8th Division. Fighting at Katzbach that August, Brayer was wounded by grapeshot to the left leg. Afterwards he received a promotion to général de division, and he was still healthy enough to fight at Leipzig in October where he was again wounded.
Falling back to France with the army, Brayer took command of the 35th Division of XI Corps. In February of 1814 he served at the defense of Châlons, Dormans, Crézancy, and La Ferté-sur-Aube before being driven out of Bar-sur-Seine that March. After Napoleon's abdication, the returning Bourbons made Brayer a Knight of Saint Louis but also put him on non-activity.
When Napoleon escaped from Elba in 1815, General Brayer immediately rallied to Napoleon and marched all his troops to Paris to support him. Napoleon made Brayer a Count and Peer of France in recognition of his loyalty and then gave him command of a division and sent him to quell the insurgents of Maine-et-Loire. That June Brayer served at the combat of Rocheservière against the Royalists.
After Napoleon's second abdication, Brayer was proscribed by the vengeful Bourbons. He took refuge in Belgium, then Prussia, and finally the United States. In the meantime he was tried in absentia and condemned to die back in France. Residing in Baltimore for a period of time, Brayer eventually left for Buenos Aires where he took a command in the army there. In March of 1818 he commanded an army of revolutionaries of Chile at Talcahuano, but he resigned his command and left the country. In 1821 Brayer was amnestied by the French government and he returned to France.
Brayer's daughter later married Louis Marchand, Napoleon's valet during his exile on St. Helena.1
Notes
Bibliography
External Links:
Updated August 2016
© Nathan D. Jensen