General Pierre-François-Joseph Durutte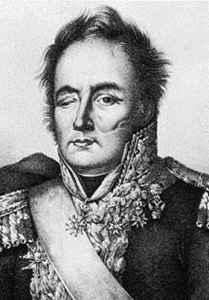 Général de division who commanded a division at Waterloo
---
Born: July 13, 1767

Place of Birth: Douai, Nord, France

Died: April 18, 1827

Place of Death: Ypres, Belgium

Arc de Triomphe: DURUTTE on the east pillar
Pronunciation:
Pierre-François-Joseph Durutte began his military career like many others of the time, by volunteering during the Revolution when France was in danger. Durutte volunteered in April of 1792, joining the 3rd Battalion of Volunteers of Nord. He almost immediately saw action, serving under Luckner at Menin and Courtrai two months later. That August, Durutte was named a sous-lieutenant in the Legion of Nord and served under Dumouriez and then in November he fought at Jemappes where Dumouriez promoted him to lieutenant on the battlefield. Durutte continued to serve in 1793, fighting at the siege of Fort Klundert in February where he was wounded by a shot to the leg. A promotion to capitaine and transfer to the 19th Dragoons followed in March, and later that year he served at the siege of Wilhelmstadt and then Hondschoote . A week after Hondschoote, Durutte was promoted to chef de bataillon, and then two weeks after that he was promoted to chef de brigade. In 1794 Durutte served as chief of staff to Michaud at Dunkirk and then served at Furnes and Ypres.
In 1795 Durutte became the deputy chief of staff to General Moreau in the Army of the North, where he would remain for the next four years. In August of 1799 he joined the Army of Holland as Desjardin's chief of staff and then served under General Daendels at Zyp and Bergen. A week later Durutte was promoted to général de brigade and then the following month he was designated for the Army of the Rhine.
Once back with the Army of the Rhine, Durutte joined La Poype's division in April of 1800. That May he fought at Engen under Richepanse and then in June he was given command of the 2nd Brigade of Decaen's division. After negotiations with the Austrians fell apart that autumn, Durutte served with the army at the Battle of Hohenlinden in December.
During the years of peace, General Durutte commanded the département of Lys and was promoted to général de division. In 1803 he was sent to the camp of Bruges and then became commander at Dunkirk. When General Moreau was arrested for plots against Napoleon, Durutte was disgraced as a friend of Moreau's. Durutte was first sent to the 10th military division at Toulouse, and then in 1805 he was named commander of the island of Elba where he would remain for the next four years.
1809 saw Durutte taking an active role again when he was given command of a division in the Army of Italy. As part of Grenier's corps, he served at the battle of Piave and lifted the blockade of Venice before seizing the fort of Malborghetto. Durutte went on to win at Saint-Michel and then serve at Raab and Wagram . Afterwards, he was named a Knight of the Iron Crown and Baron of the Empire in recognition of his services.
Durutte was next sent back to Holland, where he commanded at Amsterdam and then the 31st military division at Groningue. When in 1812 the Grande Armée advanced into Russia, Durutte was named governor of Berlin and commanded a reserve unit there. Called up to assist the army, he led a division to Warsaw that November, and then fought off 33,000 Russian soldiers at the bridge of Wolkowisk. Durutte and his men next covered the retreat and took Glogau.
Durutte continued to lead his division throughout the campaigns in Germany of 1813. After initially serving at the defense of Dresden in March, he and his men rejoined Prince Eugene and then served at Lützen and Bautzen in May. Named a Count of the Empire that August, Durutte went on to fight at Wittsotck, Dennewitz, and Leipzig . When the Saxon Army treacherously defected during the Battle of Leipzig, they immediately attacked Durutte's division, who held them off.
Falling back to France in 1814, Durutte was ordered to hold Metz which he did, holding back a Russian army of 40,000 soldiers. Durutte finally left Metz that March but was unable to rejoin Napoleon's army. After Napoleon abdicated, Durutte was named commander at Metz, a Knight of Saint Louis, and a Grand Officer of the Legion of Honor. Nevertheless, when Napoleon returned to power in 1815 for the Hundred Days, Durutte rejoined him and was given command of the 4th Division of Drouet d'Erlon's I Corps. Durutte led his men into action at Waterloo where he received two saber blows, one to the head and the other to the right wrist. That October, he retired due to his wounds.

Bibliography
Updated June 2016
© Nathan D. Jensen