General François Fournier-Sarlovèse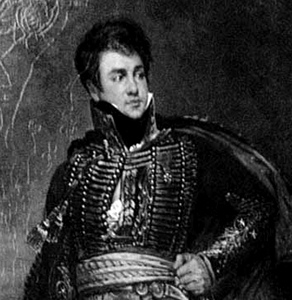 The Demon of the Grande Armée, known for his arrogance and enjoyment of dueling
---
Born: September 6, 1773

Place of Birth: Sarlat, Dordogne, France

Died: January 18, 1827

Place of Death: Paris, France


Pronunciation:
Known as the Demon of the Grande Armée, François Fournier-Sarlovèse was a light cavalry officer who had a reputation for arrogance and getting into duels with just about anyone. Possibly a sociopath, he enjoyed insulting others and their wives, leading to demands of duels where he could kill others within the dueling code. He allegedly fought a series of duels with an officer named Dupont from 1794 to 1813, finally ending with Dupont outwitting him and sparing his life.1
In contrast to his future reputation, Fournier originally studied with the monks of Sarlat as a choir boy and scribe before embarking on a career as a light cavalry officer. After traveling to Paris he joined the 9th Dragoons as a sous-lieutenant in January of 1792 and he was then sent to the Army of the Alps. The following year Fournier was promoted to lieutenant, and he served at Lyon where he befriended the lawyer and politician Joseph Chalier. When the people of Lyon rose against Chalier at the end of May of 1793, Fournier was imprisoned as an associate, but he managed to escape. In September of 1793 he was promoted to chef déscadrons, and he then served with the Army of the North before serving with the Army of the Sambre and Meuse. In November of 1794 Fournier was relieved of command by representative Gillet for fraud and being absent without leave.
Six months later in May of 1795 Fournier was reintegrated in his rank but left on non-activity. He was finally employed again in August of 1797 when General Augereau brought him on as an aide-de-camp. When Augereau was sent to command the Army of Germany, he promoted Fournier to chef de brigade of his guides, the soldiers tasked with protecting the commander-in-chief. Fournier remained in this command until April of 1798 when he was placed with the 11th Hussars. He was next designated for the expedition to Egypt, but they had already left, and therefore he was placed in command of the 8th Hussars in September of 1798. After serving in the Army of the West throughout 1799, Fournier then joined the Army of the Reserve in the year 1800 and served in Rivaud's brigade. That May he fought at Châtillon and then the following January he served at Loria in the Army of Italy.
During the years of peace that followed, Fournier still managed to get himself in trouble. Colonels Donnadieu and Fournier were arrested in May of 1802 for a conspiracy against the First Consul, Napoleon, and Fournier was implicated and arrested. After about three weeks of being locked up at the Temple, Fournier was released and sent to reside in Périgueux.
Fournier returned to service in March of 1805 when he took command of 600 men assembled at Rochefort for the expedition of Admiral Magon. After sailing all the way to Martinique, he did not disembark with his men and instead returned to Europe as part of Villeneuve's squadron. Villeneuve dropped him off at Cadiz and when Fournier returned to France he was asked to retire to Orléans. A new opportunity arrived in June of 1806 when Fournier was employed in the Army of Naples. The following February he joined the Grande Armée as chief of staff to Lasalle's division and then he immediately found himself serving in combat at the Battle of Eylau. Four months later he fought at Friedland and afterwards he received a promotion to général de brigade and was placed with the 5th Dragoon Division.
In 1808 Fournier became a Baron of the Empire and then that September he and his division joined the Army of Spain. At the end of the year he took command of the 2nd Brigade of Lorge's division and he then fought at Corunna in January of 1809. Four months later, Fournier defended Lugo until he was rescued by Marshal Soult. 1810 saw Fournier taking command of two light cavalry regiments formed at Tours and then the cavalry of IX Corps in Spain. In March of 1811 he took command of the cavalry of VI Corps and then in July he served with the Army of Portugal under Marshal Marmont. Fournier fell ill later that year and stayed at Irun, finally being authorized to return to France to recover at the end of the year.
Fournier regained his health in time for the Russian campaign of 1812 and he was given command of the 31st Light Cavalry Brigade in the Grande Armée. Serving under Marshal Victor in the IX Corps, he didn't see much action until the retreat. During the retreat he fought at Smolensk, he was promoted to général de division, and then he fought at the Battle of the Berezina where he was wounded. For the campaigns in Saxony of 1813, Fournier returned to service to command a light cavalry division of III Corps. That August he fought at Gross Beeren and then in October he fought at Leipzig . However, within a week after Leipzig he was relieved of command for mishandling the rear guard and making insubordinate statements that displeased Napoleon. At the end of November he was arrested and held until after Napoleon's abdication.
Fournier was made a Knight of Saint Louis by the restored Bourbons, and due to the mutual dislike between Napoleon and himself, he did not rally to Napoleon in 1815 for the Hundred Days. In 1819 the king allowed Fournier to add Sarlovèse to his name, indicating his hometown and origin.
Notes
Bibliography
External Links:
Updated February 2022
© Nathan D. Jensen