General Marie-Victor-Nicolas de Fay Latour-Maubourg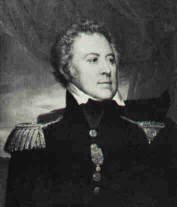 Cavalry officer who emigrated with Lafayette but returned at the amnesty to become a notable corps commander
---
Born: May 22, 1768

Place of Birth: La-Motte-de-Galaure, Drôme, France

Died: November 11, 1850

Place of Death: Dammarie, France

Arc de Triomphe: LT

R

MAUBOURG on the east pillar
Of the nobility, Marie-Victor-Nicolas de Fay Latour-Maubourg first joined the French military at age 14 as a sous-lieutenant in an infantry regiment. Two years later he joined the cavalry, and a year after that was promoted to captain. In 1789 he joined the Garde du Corps, but in 1791 he left that unit to become a lieutenant colonel in the 3rd Chasseurs à Cheval. In February of 1792 Latour-Maubourg became colonel of his unit, and in June served at La Grisoelle. Fearful of the direction the Revolution was turning, Latour-Maubourg, his brother, Lafayette, and a few others fled France in August. They did not make it far, and were arrested and imprisoned by the Austrians. However, he was released before long though Lafayette and his brother would remain in prison for many years.
Latour-Maubourg then went to Holland and eventually settled in Brussels. After Napoleon's coup d'état in 1799, Latour-Maubourg returned to France. He was given a mission to announce the establishment of the Consulate to the troops in Egypt. He set forth in January of 1800 and arrived in February, and General Kléber made him a chef de brigade and aide-de-camp. Latour-Maubourg fought at Belbeis and after Kléber's death became an aide-de-camp to General Menou. Next he was given command of the 22nd Chasseurs à Cheval in July, and the next year was badly wounded by a piece of a shell to the head at Alexandria.
After returning to France, Latour-Maubourg remained in command of the 22nd Chasseurs à Cheval and was placed in Milhaud's Light Cavalry Brigade. Campaigning in 1805, he fought at Austerlitz and earned a promotion to général de brigade on Christmas Eve. In 1806 he took command of a brigade of Beaumont de La Boninière's dragoons and led them into action at Jena. He fought at Tsarnowo in December before taking command of a brigade in Lasalle's division. In 1807 General Latour-Maubourg fought at Bergfried on February 3rd and two days later was wounded by a shot to the left arm at Deppen. In May he received a promotion to général de division and took command of the 1st Division of Dragoons, replacing Klein. Leading this new unit, he fought at Heilsberg and Friedland where he was wounded by a shot to the hand.
In 1808 Latour-Maubourg was rewarded as a Baron of the Empire. After serving at Mainz for a few months, he joined the Cavalry Reserve in Spain. That December he served at Madrid and then in 1809 he served at Uclès, Cuenca, Medellin, Talavera de la Reyna, and Ocana . In 1811 Latour-Maubourg participated in the siege of Badajoz and fought at La Gebora, seized Albuquerque, and was pushed back at Campo Maior. Next he fought at Albuera and then took command of V Corps in Spain, winning at Elvas. In July he resumed command of a division of cavalry under Marshal Soult in Andalusia and then in November took command of the reserve of the Army of Andalusia.
Recalled to France, Latour-Maubourg received command of the IV Cavalry Corps for the campaign in Russia. He fought at Borodino where he was wounded and then fought at Mojaisk where he distinguished himself. After surviving the retreat, in 1813 he took command of the I Cavalry Corps and received the honor of the Grand Cross of the Réunion. Leading his men throughout the campaign, he fought at Bautzen and Reichenbach in May and then Goldberg and Dresden in August. Taking part in the Battle of Leipzig , his leg was carried off at the thigh by a cannonball. Seeing his valet valet weeping at the horrific nature of his wound, Latour-Maubourg told his valet, "What are you crying about, idiot? You have one less boot to polish!"1
Due to his wound, Latour-Maubourg no longer took an active part in campaiging. In the last days of the empire he was made a Count of the Empire. The returning Bourbons rewarded him as a Peer of France and Grand Cordon of the Legion of Honor. He refused to participate during the Hundred Days, but afterwards voted for death at the trial of Marshal Ney.
Notes
Bibliography
External Links:
Updated May 2019
© Nathan D. Jensen