General Gabriel-Jean-Joseph Molitor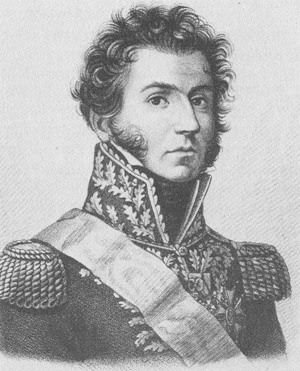 Général de division who distinguished himself at Aspern-Essling and Wagram
---
Born: March 7, 1770

Place of Birth: Hayange, Moselle, France

Died: July 28, 1849

Place of Death: Paris, France

Arc de Triomphe: MOLITOR on the east pillar
Like many during the Revolution, Gabriel-Jean-Joseph first joined the army as a volunteer when he joined the 4th Battalion of Volunteers of the Moselle in 1791. He was elected a capitaine in his battalion and he and his men were then sent to the Army of the Moselle. In 1793 Molitor received a promotion to chef de bataillon and he fought at Kaiserslautern, Woerth, and Geisberg. The next year he served at Trippstadt in Taponier's division, and then in 1795 he received a promotion to chef de brigade and became part of the Army of the Rhine and Moselle when the army was reorganized. In early 1797 Molitor served in Ambert's division and later that year was wounded at the Siege of Mainz.
1799 was a year full of activity for Molitor. Employed in the Army of the Danube, he fought at Pfullendorf in March in Lefebvre's division. In June, despite not being a general, he took command of a brigade of Oudinot's 4th Division. The next month he received a promotion to général de brigade to correct this inconsistency. That August Molitor took command of the 3rd Brigade of Lecourbe's division and he seized Glarus. Much marching and fighting followed, as in September he pushed back Jellachich and seized Linken, and then he and his men stopped the Austrians at Klonthal but were then driven out. On October 1st, he stopped Suvarov at the combat of Naefels, and he triumphantly reentered Glarus a few days later.
In March of 1800 Molitor took command of the 2nd Brigade of Vandamme's division in the Army of the Rhine, and he led this brigade into action at Stockach and Messkirch in May. That July he took command of the 1st Division of Lecourbe's corps and then he fought at Feldkirch. A promotion in October to général de division followed and Molitor next operated in the Tyrol until peace was finally signed. During the years of peace that followed Molitor took command of the 7th military division at Grenoble.
As the campaigns of the War of the Third Coalition got undreway in 1805, Molitor went to Italy where he took command of the 3rd Division under Marshal Masséna. With this unit he served at San-Michele and he then commanded the left at the Battle of Caldiero . In 1806 Molitor was ordered to occupy Dalmatia, where he freed Lésina, took Curzola, and delivered Ragusa. In April of 1807 he took command of a division under Marshal Brune and became Governor of Swedish Pomerania. That July Molitor participated in the Siege of Stralsund and then a few months later he joined Soult's IV Corps and later temporarily took command of IV Corps.
Rewards followed with Molitor being made a Count of the Empire in 1808 and receiving the Grand Cross of the Order of Charles-Frédéric of Baden in 1809. In February of 1809 he took command of the 3rd Division of a corps that was to become Masséna's IV Corps after Austria declared war in April. Molitor fought at Neumarkt in April and then in May he seized the Isle of Lobau in the midst of the Danube River to secure a crossing point for the Grande Armée. During the Battle of Aspern-Essling that followed, Molitor's division held Aspern against all odds and repeated Austrian attacks. Six weeks later he again distinguished himself, this time at the Battle of Wagram .
In 1810 Molitor was placed in command of the 17th military division at Amsterdam where he served for the next few years. As the Allies forces moved forward in 1813, Molitor successfully evacuated his corps in late 1813 and joined up with Marshal Macdonald. Taking part in the defense of France of 1814, he was pushed back at Chaussée and then he served at the defense of Châlons-sur-Marne and Troyes. When Macdonald left on Napoleon's orders to attempt to negotiate with the Allies, Molitor assumed command of Macdonald's XI Corps.
After Napoleon's abdication in April and the subsequent Bourbon Restoration, Molitor was made inspector general of infantry and awarded the Grand Cross of the Legion of Honor. Nevertheless, when Napoleon resumed power in 1815 for the Hundred Days, Molitor rejoined him. Molitor was given command of a division of National Guard troops in V Corps in General Rapp's Army of the Rhine. Napoleon recognized Molitor by making him a Peer of France, but after Napoleon's second abdication the Bourbons stripped him of that title. Initially placed on non-activity by the Bourbons, within a few years he had returned to active duty and in 1823 he was appointed a Marshal of France.

Bibliography
Updated January 2016
© Nathan D. Jensen