General Jean-Jacques-Germain Pelet-Clozeau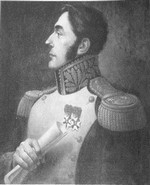 Général de brigade who served in the Imperial Guard and later directed the Depot of War, preserving historical documents
---
Born: July 15, 1777

Place of Birth: Toulouse, Haute-Garonne, France

Died: December 20, 1858

Place of Death: Paris, France

Arc de Triomphe: PELET on the east pillar
Pronunciation:
Jean-Jacques-Germain Pelet-Clozeau was originally from Toulouse and went to the school of arts and sciences there. In 1799 he enlisted in the military and the next year he was promoted to sergeant in the 1st Auxiliary Battalion of Haute-Garonne, joining the engineers. In 1801 he was promoted to sous-lieutenant and began working on geography and topography. The next year he was promoted to lieutenant.
Pelet-Clozeau's next major career move came in 1805 when he joined Marshal Masséna's staff in the Army of Italy, eventually becoming Masséna's aide-de-camp in early October. He went on to fight at Caldiero where he was wounded in the head by a ball. The next year he served at Naples, and then in 1807 he was promoted to capitaine. In 1809 he saw action again, being wounded that May at Ebersberg by a ball to the left arm. Afterwards he was promoted to chef de bataillon and served at Aspern-Essling , and then in July he served at Znaim.
For the years 1810 and 1811, Pelet-Clozeau served in Portugal. In 1811 he was also promoted to colonel and made a Knight of the Empire. The next year he joined General Marchand's staff for the campaign in Russia, and fought at Smolensk and Borodino. On the way back, Pelet-Clozeau was given command of the 48th Ligne in Ricard's division, and he fought at Krasnoe where his right arm and both legs were broken by grapeshot.
In April of 1813 Pelet-Clozeau was promoted to général de brigade and employed in the VI Corps. That August he took command of the 2nd Brigade of the Decouz's 3rd Division of the Young Guard and fought at Dresden. Two months later he served at Leipzig , and then in 1814 he continued to serve with the Young Guard in defense of France. He fought at Brienne in January and then after Decouz was badly wounded he took command of the division, fighting at La Rothière, the bridge of Lesmon, Champaubert , and Montmirail in February. Next he took command of the 1st Brigade of Friant's division and fought at Vauchamps and Montereau , and then in March he took command of a brigade of chasseurs of the Old Guard and served at Craonne, Laon, Reims, and Arcis-sur-Aube.
After Napoleon's abdication, the returning Bourbons made Pelet-Clozeau a Knight of Saint Louis. Nevertheless, when Napoleon returned from exile in 1815, Pelet-Clozeau rallied to him. Pelet-Clozeau took a command in the 2nd Chasseurs à Pied of the Old Guard in Morand's division, and served at Ligny. At Waterloo, he and his men defended Plancenoit.
After Napoleon's second abdication, Pelet-Clozeau was put on non-activity. He resumed an active career in 1818 and became Director of the Depot of War. In 1831 he entered politics and was elected a deputy of Haute-Garonne. Four years later he was badly wounded when Fieschi tried to assassinate King Louis-Philippe with the infernal machine in the same attack that killed Marshal Mortier. In 1845 Pelet-Clozeau again became Director of the Depot of War and finished his career there before retiring and later joining the Senate.

Bibliography
Updated prior to 2014
© Nathan D. Jensen