General Auguste François Marie Colbert de Chabanais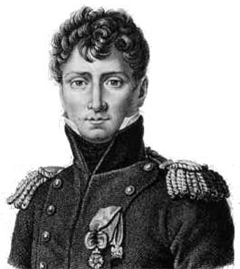 Cavalry general and Marshal Murat's aide-de-camp who was killed by a British sniper at Cacabelos
---
Born: November 18, 1777

Place of Birth: Paris, Paris, France

Died: January 3, 1809

Cause of Death: Killed in action

Place of Death: Cacabelos, Spain

Arc de Triomphe: COLBERT on the west pillar
Pronunciation:
The youngest of three brothers who rose to become cavalry commanders, Auguste-François-Marie Colbert de Chabanais was actually the first to join the army. At the young age of 15, Colbert embraced the Revolution and volunteered in the National Guard of Tarbes in 1792. Over the next few years, he served in the Army of the West, becoming a chasseur in the 7th Regiment in early 1794 and then in August of 1795 joining the 15th Chasseurs à Cheval. In October of that year he was promoted to lieutenant and placed in the 1st Battalion of Volunteers of Loire-Inférieure. In 1796 General Grouchy noticed Colbert and made him an aide-de-camp, and alongside Grouchy Colbert then participated in the failed expedition to Ireland.
In 1797 Colbert joined the Army of Italy where he met General Murat, who promoted him to capitaine and took him on as an aide-de-camp. Accompanying the expedition of Egypt in 1798, Colbert fought at Salahieh and was later promoted by General Bonaparte to chef d'escadrons in the 4th Chasseurs à Cheval. At the Siege of Acre in May of 1799, Colbert was wounded when he was shot in the thigh.
Returning to France in the year 1800 with Desaix, Colbert was also able to rejoin the army shortly before the Battle of Marengo, where he served as an aide-de-camp to Murat again. A promotion to chef de brigade of the 10th Chasseurs à Cheval followed. Murat served as one of his witnesses at Colbert's wedding when in 1803 Colbert married the daughter of General Canclaux.
Colbert served with the army during the campaign of 1805, and afterwards he was promoted to général de brigade at age 28. Sent on a mission to St. Petersburg in 1806, he returned to the army to command a brigade of light cavalry of Marshal Ney's VI Corps. Ney once said that he always slept peacefully when Colbert was in command of his outposts.1 With VI Corps Colbert participated throughout the campaigns against the Fourth Coalition in 1806 and 1807, serving at the Battle of Jena and the Battle of Friedland.
1808 was a notable year for Colbert de Chabanais, as he was made a Baron of the Empire and fatefully sent to Spain. After serving under Marshal Bessières at Medina del Rio Seco, he later fought at Tudela under Marshal Lannes before taking command of a brigade of light cavalry under Marshal Ney again. Two months later, at Cacabellos he led an attack on a well-defended bridge. Noticing the dashing cavalry general leading the French, the British offered a reward to anyone who could bring down the gallant Frenchman. A sharpshooter took aim and with a single shot, hit Colbert de Chabanais in the head, nearly killing him. Fifteen minutes later, he was dead, and the British later denied having offered a reward for his death.
Notes
Bibliography
Related Pages:
External Links:
Updated January 2021
© Nathan D. Jensen