General Jean-Marie-Antoine Defrance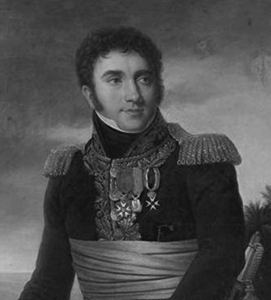 Général de division of heavy cavalry who fought at many notable battles
---
Born: September 21, 1771

Place of Birth: Wassy, Haute-Marne, France

Died: July 6, 1855

Place of Death: Epinay-sur-Seine, France

Arc de Triomphe: DEFRANCE on the east pillar
Pronunciation:
The son of a doctor, Jean-Marie-Antoine Defrance enrolled in the military school of Rebais at a young age. When the Revolution began in 1789, he volunteered to join the National Guard of Rebais while his father would go on to become a member of the National Convention. The young Defrance soon traveled to the Americas and ended up as a dragoon at Saint-Domingue, fighting against the the revolt of the black slaves. He was there for less than a year before he caught yellow fever and returned to France to recover.
Now back in France, Defrance volunteered to join the 3rd Battalion of the National Federation in June 1792 and he was named a sous-lieutenant in the same battalion a month later. He next was named an ordnance officer for General Duhoux who was commanding the camp of Soissons. Defrance was then sent to Dumouriez and Kellermann and assisted at the Battle of Valmy where the Prussians were turned back. Two months later he was back with his battalion and he fought at Jemappes , and then in early 1793 he was elected treasurer of the battalion. A promotion to capitaine followed in August of 1793 but he fell ill at Rouen and was out of action for a time.
Defrance spent much of 1794 serving at the depot of Verdun and then in 1795 he was appointed to the 11th Chasseurs à Cheval. That June he was then promoted to chef de brigade in the Army of the Interior. The following year Defrance was sent to Rouen where he would remain for a number of years.
In early 1799 Defrance was employed in the Army of Mainz and attached to the 6th Division and he then led his men into combat at Stockach in March. The next month he became chief of staff to Tharreau's division, and then in September he refused a promotion to général de brigade and distinguished himself at the Battle of Zurich . In November of 1799 Defrance returned to command the 11th Chasseurs à Cheval, and then the following March he took command of the 12th Chasseurs à Cheval. As part of the Cavalry Reserve of the Army of the Rhine, he fought at Stockach, Messkirch, and Memmingen that May before being sent to Italy. Traveling towards Italy, Defrance fought during the attack on Bellinzona and then caught up with Napoleon's Army of the Reserve and joined Duvignau's brigade. That June he fought at Spinetta and Marengo. Called back to France, Defrance was then sent to Switzerland in 1801 before being stationed at Belfort in 1802.
In 1803 Defrance joined Bourcier's light cavalry division in the Army of the Coasts of the Ocean and the following year he was named an equerry of the Emperor. Defrance was promoted to général de brigade in February of 1805 and he served throughout the campaign in Austria that year. In September of 1806 he was given command of a brigade of carabiniers of Nansouty's heavy cavalry division in the Grande Armée. Leading his men into action, Defrance fought at Jena in 1806 and then at Willenberg, Guttstadt, and Friedland in 1807. Afterwards, he was rewarded as a Knight of the Order of the Lion of Bavaria, a Knight of the Iron Crown, and a Count of the Empire.
Defrance continued to command a brigade of carabiniers under Nansouty, and he led them throughout the Danube campaign of 1809. During that campaign he fought at Landshut and Ratisbon before being wounded at Wagram . For the next few years Defrance served in administrative positions, and in 1811 he was given the honor of traveling to Spain to notify Joseph Bonaparte of the birth of Napoleon's son, Napoleon II. Later that year he was promoted to général de division.
Preparing for the campaign against Russia in 1812, Defrance took command of the 4th Division of Cuirassiers which formed part of Montbrun's II Cavalry Corps. He and his men charged at the Battle of Borodino, and then during the retreat they fought at Winkowo in October. As the retreat got worse and worse, Defrance was named a capitaine in the sacred squadron of officers to defend Napoleon.
Sent back to France in 1813, Defrance soon took command of the 3rd Dragoon Division at Metz. He took part in the campaigns in Germany that year, defending Leipzig in June and then fighting at Dennewitz in September. Continuing to fight into October, Defrance served at Dessau and then the Battle of Leipzig . Afterwards, he was named inspector general of remounts for the cavalry.
As France was now threatened at the dawn of 1814, Defrance took command of the Guards of Honor. That February he served at La Rothière, Montmirail , Château-Thierry, and Berry-au-Bac. The next month Defrance repulsed Russian General Saint-Priest's attack on Reims before he himself was driven out of Reims five days later. With French reinforcements arriving the next day, he took part in the retaking of Reims. A week later Defrance served at Arcis-sur-Aube.
After Napoleon's abdication, Defrance was retained by the Bourbons and made inspector general of cavalry of the 12th military division. When in 1815 Napoleon returned from exile for the Hundred Days, Defrance served as commander of the cavalry depot at Troyes. After Napoleon's second abdication, Defrance was put on non-activity for a short period of time before resuming his career.

Bibliography
Updated October 2014
© Nathan D. Jensen