General Jean Baptiste Solignac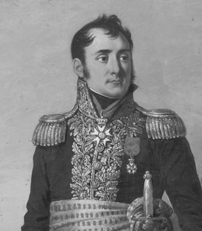 Officer present at 13 Vendémiaire and 18 Brumaire who was disgraced for embezzlement and also served in the Portuguese Civil War
---
Born: March 15, 1773

Place of Birth: Millau, Aveyron, France

Died: November 11, 1850

Place of Death: Montpellier, France

Arc de Triomphe: SOLIGNAC on the west pillar
Pronunciation:
Living quite the eventful life, Jean Baptiste Solignac began his military career by joining the infantry regiment of Vermandois in September of 1791. In 1793 he became an aide-de-camp to General Voulland, and then in January of 1794 a representative of the people promoted him to chef de bataillon. Another promotion from a representative followed in June when Solignac was promoted to chef de brigade. Solignac followed General Voulland to the 8th military division where he then got into trouble. Solignac released some federalists considered harmless and for that he incurred the wrath of a representative on mission there, and Solignac responded violently. He was forced to flee and he made his way to Paris, only to be caught there and arrested by order of the Committee of General Safety. Solignac was imprisoned at la Force for five months and then released in May of 1795. Remaining in Paris, he served under General Bonaparte against the insurrection of 13 Vendémiaire where Bonaparte fired his famous "whiff of grapeshot" at the mob in October.
Next Solignac was employed in the Army of the Interior as chief of staff of the 17th military division until September of 1796 when he joined the Army of Italy as Masséna's chief of staff. He followed Masséna to Rome in March of 1798 and then in April of 1799 he was promoted to général de brigade. Solignac served in Hatry's division in the Army of Italy and he fought at Novi in August of 1799 where he was wounded. Later that year he was back in Paris where he supported Bonaparte in the coup of 18 Brumaire. Solignac protected Bonaparte in the chamber of the Five Hundred, and then when force was necessary he entered at the head of grenadiers with Murat to chase out the deputies. With the coup successful, he was next assigned to restore order to the 8th military division.
In March of 1800 Solignac was sent to the Army of Italy to serve under Suchet and in April he was wounded by a shot of grapeshot to the thigh at the attack of Monte San Giacomo. Solignac remained in Italy during the peace that followed and when war with the Third Coalition got underway in 1805, he became commander of the first brigade of grenadiers in Partouneaux's division. On October 30 Solignac served at the Battle of Caldiero and then the following day at San Leonardo he captured the Austrian corps commanded by Hillinger. In November he served at the crossing of the Tagliamento. After the conclusion of the campaign he was called to Paris to defend himself from embezzlement charges during his time in the Venetian States. Solignac's defense failed and he was dismissed in March of 1806 and ordered to repay the army 550,000 francs he had taken. Nevertheless, he returned to active duty in April of 1807 when he was sent to the Siege of Danzig . After that siege, Solignac commanded a brigade under Victor that laid siege to Graudenz. At some point in time he was named a Commander of the Iron Crown and through marriage he became a brother-in-law to Marshal Jourdan.
In 1808 Solignac was employed with the Army of Portugal and he was named commander at Cascaès. He distinguished himself at the action of Evora in July and he fought at the Battle of Vimeiro in August where he was wounded. As part of the terms of the Convention of Cintra, Solignac was sent back to France on British ships. In November he was promoted to général de division and he joined Junot's VIII Corps. In 1809 Solignac was put at the disposition of his brother-in-law Marshal Jourdan and in 1810 he was ordered to organize a division at Burgos. He took command of a division later that year and won at Coreiras in October. In 1811 Solignac was rewarded as a Baron of the Empire but then in November he was dismissed from the army again for embezzlement. Solignac remained unemployed with the army until 1814 for the defense of France. That year he joined Maison's I Corps and served in Belgium, fighting at the combat of Courtrai in March.
After Napoleon's abdication and the Bourbon Restoration, Solignac was named a Knight of Saint Louis and put on non-activity. When Napoleon returned from exile and resumed power for the Hundred Days in 1815, Solignac did not rejoin the army, instead being elected a representative of the arrondissement of Millau to the chamber of the Hundred Days. After the French loss at Waterloo, on June 22nd Solignac proposed forming a commission to negotiate with the Allied powers and in particular stop the march of Wellington and the British army. He also urged Napoleon to abdicate in favor of his son, and then reported Napoleon's abdication to the assembly. Solignac was proscribed for his actions but in December the orders against him were lifted, and in 1819 he was officially granted a retirement.
When Louis Philippe took power in 1830, Solignac like many other former generals came out of retirement. He was named a Grand Officer of the Legion of honor and in 1832 he took command of the infantry troops in the Vendée and restored order there. Around this time Solignac wrote a letter to Marshal Soult the Minister of War that accused Soult of personal animosity based on financial interests. In 1833 Solignac joined the Portuguese forces of Dom Pedro supporting Dona Maria against Dom Miguel in the Portuguese Civil War. He was named Grand Marshal of Portugal and awarded the Grand Cross of the Order of the Tower and Sword. Solignac resigned in 1834 and was replaced by Marshal Saldanha and he then returned to France.

Bibliography
Related Pages:
Updated March 2018
© Nathan D. Jensen