General Alexis-Joseph Delzons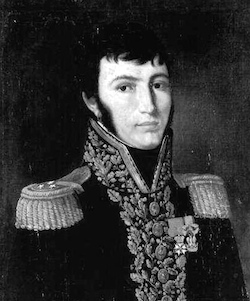 Général de division who served in Illyria and was killed at Maloyaroslavetz
---
Born: March 26, 1775

Place of Birth: Aurillac, Cantal, France

Died: October 24, 1812

Cause of Death: Killed in action

Place of Death: Maloyaroslavetz, Russia

Arc de Triomphe: DELZONS on the east pillar
The son of a lawyer who was a deputy to the Council of Ancients and the Corps Législatif, Alexis-Joseph Delzons took a different career path than his father to serve his country. In June of 1791 the younger Delzons volunteered to join the National Guard of Aurillac, and then in July of 1792 he was elected a lieutenant of grenadiers in the 1st Battalion of Volunteers of Cantal. Sent to the Army of the Eastern Pyrenees in 1793, Delzons received a promotion to capitaine and joined a battalion of grenadiers commanded by Jean Lannes. In 1794 he fought at Junquera where he was wounded by a shot to the left thigh and he later went on to serve at the siege of Roses. In 1795 Delzons transferred to the 8th Battalion of Light Infantry and then in 1796 his unit was sent to the Army of Italy.
Now with the Army of Italy, Delzons took part in the famous campaign of 1796 led by the new commander General Bonaparte. That April Delzons fought at Montenotte and then Dego where he was wounded by a pistol shot to the groin. The next month he served at Lodi and Borghetto, and he then went on to serve with the 4th Light in the Tyrol under General Masséna. That September Delzons was taken prisoner by the Austrians near Mantua, but eight days later he was exchanged. Returning to service, he fought at Rivoli in November where he was wounded by a shot to the left shoulder. In December Delzons received a promotion from General Bonaparte to chef de bataillon, and the next year he served in the Tyrol.
In 1798 Delzons served in Corsica before joining the Army of the Orient. Upon landing in Egypt, he took part in the Battle of Alexandria and served under General Bon at the Battle of the Pyramids . That same day, General Bonaparte promoted Delzons to chef de brigade of the 4th Light on the field of battle. Delzons remained in Egypt until the very end, notably serving at the defense of Alexandria in 1801. During that time he was promoted to général de brigade by General Menou.
Once back in France, General Delzons took command of the département of Cantal in 1802. In 1804 he was sent to the camp of Utrecht where he served in the 2nd Division of the Army of Holland. That year he was also made a Commander of the Legion of Honor.
When war broke out in 1805, Delzons took command of the 2nd Brigade of Grouchy's division in II Corps. He served in Austria during the campaign that year, and in 1806 he was sent to Dalmatia where he served under General Molitor. That year Delzons fought against the Russians in July and then in September he fought at Castelnuovo. Next he was placed in Lauriston's division, and then in 1807 he was recognized as a Knight of the Iron Crown. Delzons took command of a brigade of Clauzel's division in 1808 and that year he was also named a Baron of the Empire. For the war against Austria in 1809, Delzons fought in May at Mont Kitta, Gospich, and Ottochatz where he was wounded. A week later he was taken prisoner at Fiume while he was looking after his wound, but he was released shortly thereafter and he recovered enough to lead his men at the Battle of Wagram . After Wagram Delzons fought at Znaim where he was again wounded.
Delzons was next sent back to the Illyrian Provinces where he commanded part of Croatia. In 1810 he served in Carra St. Cyr's division of the Army of Illyria and he defended the approaches to Cattaro. In the meantime Delzons was named commander at Karlstadt and inspector of Croatian regiments. In 1811 he received a promotion to général de division and he took temporary command of the Army of Illyria before handing commanding to General Bertrand and traveling to Italy.
For the campaign against Russia of 1812, General Delzons took command of the 13th Division of Prince Eugene's IV Corps. Taking part in the campaign, he fought at Ostrowno in July and Borodino in September. During the retreat that followed, Delzons fought at Maloyaroslavetz where he was struck by multiple balls, one of which almost took his head off. Delzons' younger brother, Major Jean-Baptiste Delzons, attempted to drag the quickly dying Delzons to safety but was himself hit and mortally wounded.1
Notes
Bibliography
Updated January 2017
© Nathan D. Jensen