General Jacques-Zacharie Destaing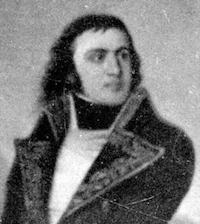 Général de division who was killed in a duel with General Reynier
---
Born: November 6, 1764

Place of Birth: Aurillac, Cantal, France

Died: May 5, 1802

Cause of Death: Killed in a duel

Place of Death: Paris, France

Arc de Triomphe: DESTAING on the south pillar
Pronunciation:
After first joining the National Guard of Aurillac in July of 1789, Jacques-Zacharie Destaing volunteered to defend the borders in the 1st Company of Aurillac in 1791. The next year, he was elected a lieutenant in the 1st Battalion of Cantal, and three days later elected a lieutenant colonel. For the next few years he served in the Army of the Eastern Pyrenees, being promoted to chef de brigade in February of 1794, being wounded by an explosion during the siege of Sainte-Elme, and then serving in Sauret's division at the Battle of Saint-Laurent de la Mouga.
In 1796 Destaing joined the soon to be legendary Army of Italy. He distinguished himself at Dego , and then was wounded at Corona. More wounds were to come for at Lonato he received four saber blows. That December he was transferred to Joubert's division, with which he fought at Rivoli , where he was wounded yet again. Three months later he received another wound, this time at Milback in the Tyrol.
Egypt was Destaing's next destination, where he served as part of Marmont's brigade in Division Bon. At the Battle of the Pyramids , he distinguished himself so well that General Bonaparte promoted him to général de brigade on the spot. In October he joined Desaix's division and then became the commander of Cairo. The next year, Destaing served under Murat at Abukir, and afterwards took command of the province of Bahireh. In early 1801, as part of Friant's division he distinguished himself before Alexandria, and then served under Rampon in the center at the Battle of Canope , where he was wounded by two shots.
General Menou, in charge in Egypt since Kléber's unfortunate death, promoted Destaing to général de division and made him his chief of staff. Unfortunately there was much dissension in the French high command of the Army of the Orient. Menou had blamed the loss at Canope on Generals Reynier, Damas, and Lanusse. Lanusse had expressed his doubts in Menou's competence shortly before his unfortunate death at Canope, and since the battle Reynier had become openly hostile to Menou. Menou considered Reynier insubordinate and ordered Destaing to arrest both Reynier and Damas, which he did in the most unsubtle manner possible, by taking a sizable contingent of troops and surrounding Reynier's house.1 Reynier and Damas surrendered and were shipped back to France.
After the French finally surrendered in Egypt to the English, Destaing returned to France and Paris. In the meantime Reynier had published a work denouncing Menou's leadership in Egypt. As Destaing read the book, he came across the section covering the Battle of Canope and found that Reynier alleged Destaing had left the battlefield early due to a slight wound. Furious, Destaing challenged Reynier to a duel, which Reynier accepted.2 On May 5th, 1802, the two generals met and Reynier killed Destaing with a single pistol shot, ending the life of the promising general. Napoleon banished Reynier from Paris as punishment.3
Notes
Jean-Louis-Ebénézer Reynier, State of Egypt After the Battle of Heliopolis, (London: J. and G. Robinson, 1802), 301-302.
Piers Mackesy, British Victory in Egypt: The End of Napoleon's Conquest, (London: Tauris Parke Paperbacks, 2010), 228.
Bibliography
Updated March 2014
© Nathan D. Jensen