General Alexandre Dalton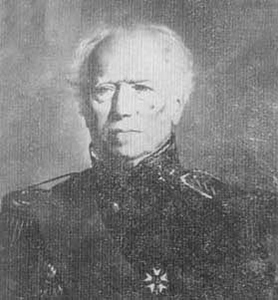 Colonel of the 59th of the Line who became a general and held Erfurt from 1813 to 1814
---
Born: April 20, 1776

Place of Birth: Brive-la-Gaillarde, Corrèze, France

Died: March 20, 1859

Place of Death: Versailles, France

Arc de Triomphe: D'ALTON on the west pillar
Pronunciation:
Commissioned as a sous-lieutenant in September of 1791, Alexandre Dalton was promoted to lieutenant only two months later. He served with the Army of the Rhine and distinguished himself at Siege of Fort Vauban. In 1794 Dalton was sent to the Army of the West where in 1795 he was promoted to capitaine and he became an aide-de-camp to General Hédouville. Later that year he became an aide-de-camp to General Hoche and he participated in the failed expedition to Ireland at the end of 1796. In 1797 Dalton joined the Army of the Sambre and Meuse, he became Hédouville's aide-de-camp again, and he was promoted to chef de bataillon. The following year he accompanied Hédouville to Saint-Domingue and then in 1799 he served as aide-de-camp to Carra Saint-Cyr. Dalton became Berthier's aide-de-camp in 1800 and that June he served under Murat at the crossing of the Po and the action of Piacenza. He went on to serve at the Battle of Marengo and he later joined the Army of Grisons.
In 1801 Dalton was promoted to chef d'escadrons and named an aide-de-camp to General Leclerc for the expedition to Saint-Domingue. Leclerc promoted Dalton to chef de brigade in October of 1802 and then after Leclerc's death Dalton returned to France. In 1803 Dalton served with the Ministry of War and then in 1804 he joined the staff of the Army of the Coasts of the Ocean. When war broke out in 1805, Dalton served on campaign as a member of the general staff in the Grande Armée. That December he served at the Battle of Austerlitz and later that month he was named colonel of the 59th of the Line. As part of Marshal Ney's VI Corps, he fought at the Battle of Jena in October of 1806. The following February he served at the Battle of Eylau and then in June of 1807 he served at the Battle of Friedland.
Dalton remained in command of his regiment over the following years and he was promoted to général de brigade in March of 1809. After General Guiot de Lacour's death following the Battle of Wagram , Dalton assumed command of his brigade in Morand's division. In 1810 Dalton was named a Baron of the Empire and in 1812 Dalton's brigade became part of Marshal Davout's I Corps for the war with Russia. Taking part in the campaign, he was wounded by a shot of grapeshot to the left foot at Smolensk. Sent back to France to recover, Dalton missed the horrors of the retreat from Russia. In July of 1813 he took command of Erfurt. On October 25th, 1813 the Coalition forces laid siege to Erfurt and Dalton and his men held out until May of 1814, waiting for confirmation of Napoleon's abdication. He he and his men marched out of the city with the full honors of war.
Back in France, Dalton was named a Knight of Saint Louis but put on half-pay. When Napoleon resumed power in 1815 for the Hundred Days, Napoleon promoted Dalton to lieutenant general. Dalton was then given command of the 25th Division of the Army of the Var under Marshal Brune. He served briefly as governor of Toulon which was besieged in June, and then after Napoleon's second abdication he was put on non-activity and his rank reverted to maréchal de camp.

Bibliography
Related Pages:
Updated July 2018
© Nathan D. Jensen