General Jacques-Gervais Subervie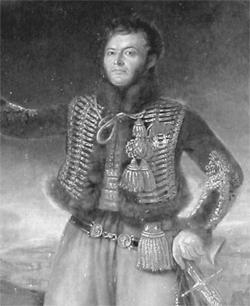 Friend and aide-de-camp to Marshal Lannes who became a notable cavalry general
---
Born: September 1, 1776

Place of Birth: Lectoure, Gers, France

Died: March 10, 1856

Place of Death: Ligueux, France

Arc de Triomphe: SUBERVIE on the south pillar
Pronunciation:
Jacques-Gervais Suberive started his career by joining the 2nd Batallion of Volunteers of Gers in June 1792, alongside his friends Jean Lannes and Pierre Banel. Elected a lieutenant, he spent the next three years in the Army of the Eastern Pyrenees, and in this time was promoted to captain and worked with Lagrange. After being transferred to the Army of Italy, he became an aide-de-camp to his friend and rising star Lannes.
Continuing as Lannes' aide-de-camp, Subervie joined the expedition to Egypt, and took part in the fighting at Malta. Perhaps fortunately for him, he fell ill at Malta and was forced to stay behind while the expedition continued on. Once recovered, he served under Vaubois defending the island until it finally surrendered to the British in September of 1800. After returning to France, Subervie resumed his duties as aide-de-camp to Lannes, and accompanied Lannes' ambassadorial debut to Portugal. At one point, some less than reputable Portuguese authorities continually harassed Subervie in a successful attempt to antagonize the French ambassador. The harassment got so bad that Subervie defended himself, with an all out brawl ensuing.1
Promoted to chef d'escadrons in 1803, Subervie returned to France alongside Lannes, and was assigned to the Army of the Coasts of the Ocean. Taking part in the major campaigns of Austria, Prussia, and Poland, Subervie replaced Colbert as the colonel of the 10th Chasseurs à Cheval after Austerlitz, and in the Prussian campaign joined Colbert's brigade as part of Ney's VI Corps.
In 1808 Subervie entered Spain as part of Lasalle's division, and the next year he fought at Medellin and was created a Baron of the Empire. By 1811, he was serving under Suchet and in August was promoted to général de brigade. A few months later he fought at Sagonte, and then in early 1812 he returned to France, being appointed to command the 16th Brigade of Light Cavalry. As the Emperor's army prepared to invade Russia, Subervie commanded the 2nd Division of Light Cavalry of Sebastiani's II Cavalry Corps. Fighting at the Disna River in July, he was victorious and then in August he was transferred to General Pajol's division. At Borodino Subervie was hit in the right thigh by two pieces of a shell and badly wounded. Transported to Wilna to recover, he missed out on the horrors of the retreat.
By mid 1813 Subervie had finally recovered enough to actively serve again, and in August he assumed command of the 9th Division of Light Cavalry of Pajol's V Cavalry Corps. After serving in Saxony that year, he received the honor of being made a Knight of the Iron Crown in December. In early 1814, Subervie commanded the 1st Brigade of Piré's division, and fought at Brienne, Champaubert , and Montereau . On March 30th, he was wounded by three lance blows near Paris, but the next week was rewarded with a promotion to général de division. Unfortunately for Subervie, the new Bourbon government revoked his promotion and placed him on half pay as soon as possible.
During the Hundred Days, Subervie commanded the 5th Division, made up of chasseurs and lancers, of Pajol's I Cavalry Corps. After fighting at Waterloo, he joined Pajol and went to the Army of the Loire. With Napoleon's second abdication, he was put on non-activity for a number of years. In later years Subervie led an active political career.
Notes
Bibliography
Updated prior to 2014
© Nathan D. Jensen