General Étienne Heudelet de Bierre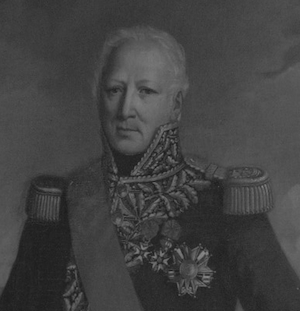 Général de division whose division was wiped out at Eylau
---
Born: November 12, 1770

Place of Birth: Dijon, Côte-d'Or, France

Died: April 20, 1857

Place of Death: Paris, France

Arc de Triomphe: HEUDELET on the east pillar
Pronunciation:
Etienne Heudelet de Bierre entered the military when he volunteered to join the 3rd Battalion of Volunteers of Côte-d'Or in August of 1792. Joining as a lieutenant, his unit was sent to the Army of the Rhine. In 1793 he became an aide-de-camp to General Dubois and then after Landau was taken he received a promotion to chef de bataillon. 1794 saw Heudelet becoming an aide-de-camp to General Michaud, being promoted to chef de brigade, and then being appointed chief of staff to the corps intending to take Mannheim.
Still with the Army of the Rhine, in late 1795 Heudelet became chief of staff to Gouvion St. Cyr. The next May he took command of the advance guard of Delmas's division and then in August was defeated at Bopfingen. In 1797 he served under Vandamme for the crossing of the Rhine, and then in 1798 joined the Army of England and later the Army of Mainz.
In February of 1799 Heudelet received a promotion to général de brigade and later that year was sent on a diplomatic mission to Hesse-Darmstadt. After he returned from that mission, in May he joined Tharreau's division in the Army of the Danube. In August he repulsed the enemy at Dettingen, and then in September he joined Mesnard's division in the Army of Switzerland and fought at Zurich . The next year Heudelet fought at Fribourg and Landshut under Leclerc, and then in December commanded Ney's advance guard at the Battle of Hohenlinden.
General Heudelet de Bigarre was placed on non-activity in 1801 where he remained until 1803 when he was employed in the 18th military division as commander of the Aube departement. That September he joined the camp of Bruges and took a command within Friant's 2nd Division. When war broke out in 1805 he was given command of the 2nd Brigade of Friant's division which served as the corps advance guard. In this capacity he served at the crossing of the Enns River and defeated Meerfeld at Marienzell before taking part in the Battle of Austerlitz. In recognition of his services, he was promoted to général de division a few weeks later.
In May of 1806 Heudelet was given command of the 2nd Division of Marshal Augereau's VII Corps. With his division he fought at Jena in October and then Sochocin and Golymin in December. The following February he fought at Eylau where his division was nearly destroyed when it became lost in the sudden snowstorm. Heudelet was wounded by a ball during the battle and the losses of his division were so great that the unit was dissolved and absorbed into other units. Heudelet returned to France to recover from his wounds and in 1808 was given command of the 13th military division at Rennes. That July he was rewarded as a Count of the Empire.
In November of 1808 Heudelet resumed active campaigning by taking command of the 3rd Division of Junot's VIII Corps in the Army of Spain. A few months later he was in command of the 5th Division of Soult's II Corps, and in March of 1809 he fought at Carvalhuo. Next he was ordered to rescue General Lamartinière who was encircled at Tuy, and Heudelet beat the insurgents, seized Valencia, and was victorious on the Minho, freeing Lamartinière and rejoining the army at Oporto. That October Heudelet was named commander-in-chief of II Corps which he retained until January of 1810 when Reynier assumed command of the corps and Heudelet took command of the 2nd Division. Now with the Army of Portugal, Heudelet fought at Busaco in September and then later fought at Santarem and Alfayta. In April of 1811 he took command of the 4th Division of the Army of Portugal, and then in October he returned to France to look after his wounds.
Heudelet's next position came in March of 1812 when he was made inspector general of infantry and ordered to organize battalions of marines at Mainz. For the 1812 campaigns he stayed with the reserve in Germany until that November when he moved up to Danzig with a division and then traveled to Koenigsberg and up to the Niemen to cover the retreat of the Grande Armée. In January of 1813 his division joined Rapp's X Corps to hold Danzig, and he took part in the defense of that city until Rapp finally authorized him to negotiate a surrender at the end of the year. When the garrison finally surrendered, Heudelet was taken prisoner and transported to Kiev.
Returned to France after Napoleon's abdication, General Heudelet was rewarded as a Knight of Saint Louis. He was briefly given a command before he chose to retire from the military. When Napoleon returned for the Hundred Days, Heudelet returned to service and was given command of the 15th Division in General Rapp's corps. After he learned of the defeat at Waterloo, he retired to his home. That October he was put on non-activity but that did not stop him from speaking up and defending Marshal Ney at Ney's trial.

Bibliography
Updated March 2017
© Nathan D. Jensen